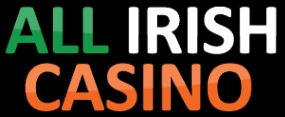 Click here to Play
All Irish Casino is the new kid on the block and we think it is about time that somebody took the initiative to do something specifically for the Irish market who we know enjoy a little flutter. All Irish Casino has been set up in a very professional manner in conjunction with the very well established Portomaso casino in Malta which is where it is being licensed by the Lotteries and Gaming Authority. The Portomaso casino has been in operation for many years and is one of the best run casinos on the Island and receives many Irish visitors each year. This online All Irish Casino is new and is aimed at the Irish market but it uses the very well respected Netent online casino software and therefore brings a full range of casino games and we are very pleased to be able to recommend this online casino and add it to our select list of online casinos for you to try.
All Irish Casino Facts
There are one or two unique features about All Irish Casino and the first is that it is only available in Instant or Flash version which means that there is no permanent installation of software onto your computer enabling you to play from any computer with an internet connection. It may take a few seconds longer to load your game depending on the speed of your connection but this is outweighed by the fact that all games are available in the flash version. The second feature is the Live Casino and we believe that All Irish Casino is the only online casino to have a live casino option that is transmitted from an actual casino which in this case is the Portomaso Casino in Malta. This is not therefore based in some Eastern European country but is backed by a real live casino and operated by genuine dealers who know their business which is great for you as a player but more of this later.

All Irish Casino History All Irish Casino subscribes to the belief that casino gambling should be an entertainment experience and therefore to assist in promoting responsible gambling allows all players to set their own deposit limits per day, week or month and these can only be increased by the player with 7 days notice. A player at All Irish Casino can also exclude themselves for a period of 7 days, 30 days or 6 months and of course new players at All Irish Casino will be subjected to a security check in an attempt to prevent illegal activities such as money laundering. Links are also provided to help organisations for gambling addiction in Ireland.
All Irish Casino Games All Irish Casino has a selection of table games including the ever popular Roulette and a selection of Blackjack games where you can play 1, 3 or 5 hands which is really all you need; All Irish Casino does not bother with all the gimmicks which you sometimes find in Blackjack games in an online casino which are just ways to extract more money from you with quite poor odds, this is a site for the purists who want to play Blackjack. Also in the range at All Irish Casino are Baccarat, Caribbean Stud, Let it Ride and Punto Banco, which is of course the same game as Baccarat, plus Red Dog and three card poker which All Irish Casino prefers to call Trey Poker. All these casino games are laid out on one page enabling you to make your selection quickly and easily and All Irish Casino has even thought to tell you which games are hot and which are new as well as indicating the jackpot games. Slots are separated into two categories namely slots and video slots with the slots being 3 reel games with a variety of winning lines and stakes whereas the video slots are 5 reel games with a great choice of themes and music as well as all the wilds, multipliers and free spin options that you might expect from these games. At All Irish Casino it is also very straight forward to play these casino games for free so that you can try them out but the graphics and sound effects are in our opinion second to none. All Irish Casino also claims to have a higher percentage payout than land based casinos due to the lower overheads that a purely online casino can have and the casino is not being affected by having more complex sports gambling operations or peer to peer software requirements such as needed for online poker. In the other games section you can find the games of Bingo and Keno and both can be played in automatic mode to speed up the games. This is of course not bingo played against other players but the fixed odds game where the odds depend on how many balls are drawn before your winning line comes up. Also here you can find a rather good horse racing game known as Golden Derby with a variety of betting opportunities.
The unique feature of All Irish Casino is definitely the Live Casino which as we have said comes directly from the Portomaso Casino on the Island of Malta. Roulette, Blackjack and Punto Banco are available and it is easy to select the table at which you want to play according to the stakes and as this is beamed directly from the casino we think you will be pleasantly surprised by the professionalism of the staff and their ability to speak English.
Deposit Methods at All Irish There are a several methods to make deposits and withdrawals to and from your account with All Irish Casino including Visa and Mastercard but possibly a more convenient method is to use Bank Transfer which can be done from any Irish Bank. Winnings will be paid within 24 hours of the request to withdraw funds at no charge although it may take a few days to reach your account depending on which bank you are using. All in all we consider that All Irish Casino is going to be a great addition the online casino line up available in Ireland and should provide many hours of casino entertainment in a safe and controlled environment.